Remembrance Service 2022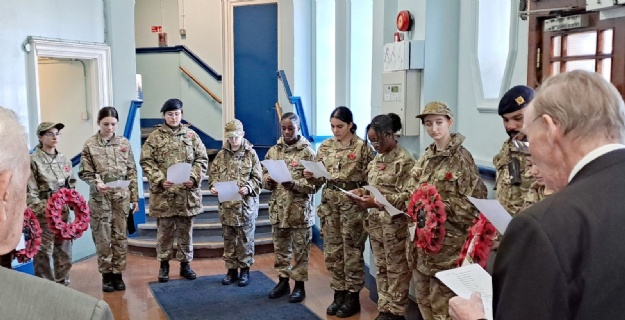 Harrow High School remembers those who have lost their lives in conflicts around the world.
2022 marks 101 years since the nation's collective Remembrance traditions were first brought together. On 18 November, our whole school community paused to remember all those who have tragically lost their lives serving our country.
Harrow High School Army Cadet helped mark the occasion with a guard of honour, while the last post was played and wreaths were laid at the War Memorial inside the school.
We were joined - as in pervious years - by Harrow High School alumni. One 'old boy' Mr Richard Green whose family attended Harrow County School (as Harrow High School was known then) shared with us the service history of his uncle Eric De Wilde Green. Eric attended Harrow County School from 1911 to 1915. He joined the British Army shortly after leaving school but died of wounds on 15 April 1918. Eric's death is recorded on the school's War Memorial.