A-Level & Level 3 BTEC Results 2021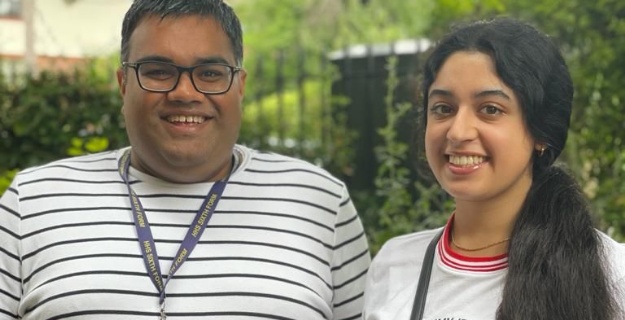 A-Level & Level 3 BTEC Results Day 2021
Harrow High School is pleased to announce that Year 13 learners have today achieved fantastic outcomes in their A-Level, and Level 3 BTEC qualifications, which will allow them all to progress to a range of universities of their choice such as Cambridge, UCL, Kings, Manchester, and Liverpool.
Paul Gamble, Headteacher commented "We are delighted with our results and are so proud of how hard learners have worked over the last 2 years to achieve such excellent outcomes, especially with the challenges of school closure, remote learning, and formal exams not being held. Despite all the uncertainties, Sixth Form learners at Harrow High continued to do exceptionally well and today will be celebrating some exceptional results. These results are the culmination of years of hard work, over many years and are thoroughly well deserved."
Kevin Patel, Head of Sixth Form, said he was "delighted with the results. This group of young people showed dedication and determination throughout their studies and they are now reaping the rewards. They have been supported by an incredibly talented team of teaching and support staff whose efforts are clear to see. We are a small sixth form where teachers know learners really well, meaning they get the individual support they need to achieve excellent outcomes." He added "100% of our Sixth Form learners have made successful applications to universities across the country and these results will ensure they are all able to take up these places. I am so proud of every single one of them."
We are proud of all of our students, but a few have really shone this year:
Mark Brown who achieved A*A*A* in Chemistry, Maths, and Physics, and will be reading Chemical Engineering at Cambridge.
Christina Merkaj who achieved A*A*A* in Biology, Chemistry, and Maths, and will be reading Medicine, at Anglia Ruskin
Anum Waseem who achieved A*A*A* in Biology, Chemistry, and Maths, and will be reading Clinical Pharmacology at St Georges
Ahmad Gherin who achieved Triple Distinction* in Business Studies and will be reading Business Management at Queen Mary
Ebony Hunter who achieved Triple Distinction* in Applied Science and will be reading Psychology at Surrey
Soumia Laouar who achieved A*AA in Biology, Chemistry, and Maths, and will be reading Pharmacy at UCL
Zan Farouqui who achieved A*AA in Computer Science, Economics, and Maths and will be reading Politics, Philosophy, and Economics at Kings.