Former Chair of Governors passes away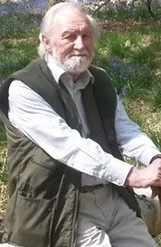 It is with great sadness that the school acknowledges the passing of former Chair of Governors, Peter Hamill.
Born in Manchester he and Jenny moved to Harrow in 1974
Peter first became a school governor at St Teresa's primary school in 1978 and was then persuaded to join the Governing Body of what was then Gayton High when a neighbour resigned in 1980. He soon became chair of governors, a role he held for over 30 years.
Peter went on to steer the school through many transitions, outlasting many headteachers. In particular, he oversaw the fundamental change from a boys school to the co-educational Harrow High and our more recent conversion to academy status.
As a hands on chair of governors, he organised many activities ranging from accompanying a School trip to Germany to painting corridors, Antique Fairs and Car Rallies.
He resigned as chair of governors in 2013 but remained a Governor until 2016 After that he took on the role of archivist until late 2019.
In other notable achievements, Peter was a successful councillor for the London Borough of Harrow, a talented writer and the first adult to gain a degree through the Open University.